MOTO's STORY
{Our story begins in the early 80's in a small kitchen in upstate New York}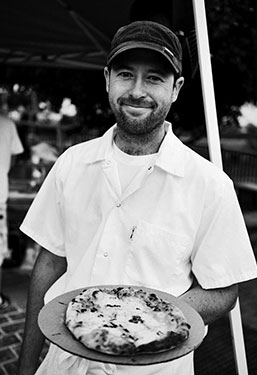 In a small kitchen in upstate New York in the early 1980's, a box of Chef Boy-R-Dee "instant pizza" was opened, and unknowingly, out poured the seed to make the finest pizza around. Pizza was the perfect ingredient to make on Friday nights to bring Jay and his father together. As time went on, the recipes started to deviate from the box, his father made dough from scratch, sauce was concocted on the stove, and trying to make the best pizza possible developed into an all consuming obsession.
After years of working in several pizzeria's, and decades of research and refinement, the tradition continues today, but now…with a mobile wood fired oven. We take inspiration from Naples & the pizzerias of New York City in the early 1900's, and cook our sourdough pizzas in a high temperature oven using only local hardwoods.
This is our craft and we want you to enjoy this pizza more than any other you've ever had before. We promise to make your event memorable, and leave your guests talking about everything, long after we've gone.
We hope you'll give us a try,